Amanda Mason, marketing manager at boat hire firm Herbert Woods, said day boat hire at the Potter Heigham company was up by 24% over the past few weeks on the same period last year.
She says: "Bookings have been great over the past few weeks the sunshine is definitely helping."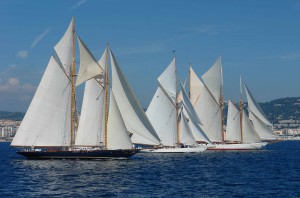 Cannes S France / Not the Norfolk Broads but a very nice fleet nevertheless
Annie Hamilton, of yacht hire firm Eastwood Whelpton in Upton, said the company had received a significant number of last-minute online bookings – and that the scorching weather had led some customers to borrow solar showers to keep cool on their craft.
She adds: "We are also getting some fabulous sea-breezes in the afternoon which is great for sailing."
The county's attractions are also soaking up the benefits of a hot summer – with many such as Bewilderwood and Roarr! Dinosaur Adventure now heading into their busiest period, the summer holidays, on a wave of higher attendance through June and July.
Millie Batch, head of marketing at Bewilderwood, said attendance so far in July was up compared with 2017.
She adds: "If visitors are looking to get out of the sunshine, our lovely tree canopy offers cooling shade for folks running WILD in the woods and our slides and seating areas have sail covers for when folk want a break."
Accommodation providers are feeling the benefit of the heat too as guests feel more positive about making bookings.
At Norfolk Country Cottages, forward bookings for 2019 so far are up 1,327% compared with the same time last year, when the weather was more than 10 degrees colder.
The Holt and Reepham based company said bookings for longer breaks (between 8 and 18 days) are up by 195% compared to June and July last year and up 37% in August while short break bookings were up 78% year-on-year during June and July.
Acknowledgement to Marine Industry News – [email protected].
For more information contact European Marine Services Ltd.  Marine Surveyors & Consultants 
EMS also undertake Boat Safety Inspections & Engine Inspections
www.europeanmarinesurveys.com
Tel: 01603 327 123