July 18, 2016
We recently carried out a Pre Purchase Survey on a Bruce Roberts Design – 'DIY Build' 32 Steel Motor Cruiser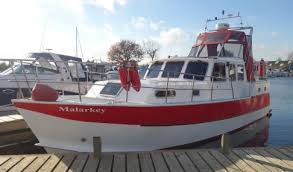 Bruce Roberts Yacht Design provides construction drawings / plans for over 200 designs and plans for both sailboats and motor cruisers in GRP, alloy & steel up to approximately 85′ in length.
Bruce Roberts Yacht Design do not build boats and customers have to find their own builder / fabricator to construct. The 32′ motor cruiser surveyed had in our opinion been constructed professionally as a steel shell and then fitted out internally by third parties
The quality of the steel hull and superstructure was professional, however the internal fit-out quality left a lot to be desired
The layout had in our opinion not been given a great deal of thought with consequential loss of usable space and practicality.
Using our Cygnus 4 Multiple Echo Ultrasonic Gauge – European Marine Services can now measure steel / alloy plate thicknesses whilst the vessel is afloat – Saving you both time and money and slipway / lifting costs.
Surface Scaling / Corrosion and paint coatings are ignored
For more information contact European Marine Services Ltd.  Marine Surveyors & Consultants
Tel : 01603 327 123        www.europeanmarinesurveys.com