June 1, 2022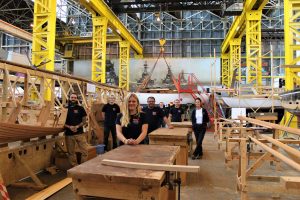 The International Boatbuilding Training College (IBTC) in Portsmouth is to close in March 2023.
IBTC Portsmouth teaches traditional wooden boatbuilding and joinery techniques, in the heart of Portsmouth Historic Dockyard on the English south coast.
In a brief media statement announcing the news, the college explains that the decision to close has "been a very difficult one to make and has not been taken lightly", and reassures that all current students will graduate as planned.
The statement reads: "Rising costs and falling student numbers have made it impossible to continue. Our current students will graduate as planned, but no more students will be enrolled and the college will close completely in March 2023. We understand that this will be upsetting news for many who hoped to study with us in future years.
"We hope that you take comfort from knowing that there are still two excellent boatbuilding colleges in England: IBTC Lowestoft and the Boat Building Academy in Lyme Regis.
"We are immensely grateful to Portsmouth Naval Base Property Trust, which rescued the College when it fell into financial difficulties in 2017. They have raised funds, invested in our team, and provided practical support throughout the last five years. We wish to thank them and our amazing staff for all the hard work and dedication to traditional wooden boatbuilding that they have demonstrated.
"Boathouse 4, the beautiful inter-war building where we are based, will remain open and continue to be an important hub for boat restoration and maintenance skills. Portsmouth Naval Base Property Trust's team of brilliant volunteers and staff will maintain the Trust's world-class collection of historic boats in the building for years to come."
Hannah Cunliffe, director of National Historic Ships UK says: "It is sad to hear of the closure of IBTC Portsmouth, which has been a nucleus for passing on traditional skills since its opening in 2015. However, I'm pleased that Boathouse 4 will be continuing its role as our Shipshape Hub in the South East, offering support to the sector whilst displaying and caring for the Portsmouth Naval Base Property Trust's significant vessel collection."
Since IBTC Portsmouth opened its doors in 2015, it has trained over 100 students. Many have gone on to forge careers in boatbuilding, boat restoration, and allied industries; preserving traditional skills for future generations. The college says it is immensely proud of students' success, and its "small part" in it.
For more information contact European Marine Services Ltd. 
     Marine Surveyors & Consultants | ADR Mediation  |  Expert Witness 
www.europeanmarinesurveys.com
Tel: (44) 01603 327 123