January 31, 2015
Chris Craft 26  (1938)                                                                                                                   
We were instructed by the owner to undertake an inspection for insurance purposes of the 1938 classic 26′ Chris Craft. Other than a few very minor problems this 76 year old Chris Craft passed with flying colours and is a credit to her current owner having taken the time at enormous cost to (almost) rebuild her to an as-new condition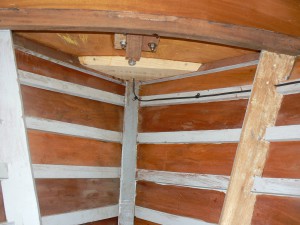 View of internal structural condition
The owner found  Chris  (ex Charleston) in 2007 , rotten as a pear  and barely afloat,   languishing on the Thames at Trinity Buoy Wharf,  London E14.
In 2007  she was taken to Woods Dyke boatyard Horning  for repairs, which ultimately developed in to a full rebuild. Woods Dyke closed half way through the rebuild so I took her to Phoenix Boatyard at Potter Higham where I discovered that  much of the work done at Woods dyke was of a poor standard and had to be redone. The owner virtually rebuilt the entire boat at Phoenix, leaving untouched only some frames, small sections of chine , the stem and part of the center line , which were in excellent condition. So she can still be considered as an original  vintage boat rather than a new build.
She had previously spent a number of years on the Norfolk Broads but the owner was unable to definitely establish this for definite and there is another virtually  identical Chris-Craft called "Roma"  moored at Richardson's in Potter Higham and there may be confusion about which boat is which.
The Nanni 3.8 9 (with upgraded 100 amp alternator),  Halyard CV05 Aquadrive,  flexible engine mounts and s/s shaft were  all new and fitted in 2009,  since when the boat  has had  only minimal use but has been stored under cover and the engine has been serviced and regularly  run under load, every week or so.
For information & marine surveys contact European Marine Services Ltd                                            
Tel :  01603 327 123        www.europeanmarinesurveys.com