July 7, 2015
Trusty T23 – Sturdy offshore little boat  for fishing ~ plus fun                  
We recently undertook a pre purchase survey of this very nice 2010 Trusty T23 at Windboats Wroxham
Trusty T23 on a road trailer                               Comfortable aft cockpit relaxation
This sturdy twin bilge keel GRP boat is a good example of the Trusty T23. Built in 2010 to an approved category B (Offshore) by Trusty Ltd, this 23 footer displayed a surprisingly large living area with a spacious aft cockpit with simile teak laid deck. The helm station gives the feel of driving a small ship to sea with all the navigation helps and control at hand. The forward cabin is mainly a large double bed with storage underneath it. A good sea going galley design and seating area help to keep the crew happy at sea.
Interior view with forward cabin                       Helm station with easy below access
This Trusty T23 was viewed at Windboat Marine in Wroxham where helpful staff gave us a detailed history of the Trusty Boats and other various on-going projects at Windboats'.
The boat has been well maintained over the past 5 years however our main finding was the starboard bilge keel which displayed some rust seeping from the forward bilge keel bolts. We recommended to have the bilge keel bolts checked and the necessary action taken to halt on-going rust seepage. Plus servicing and bonding of seacocks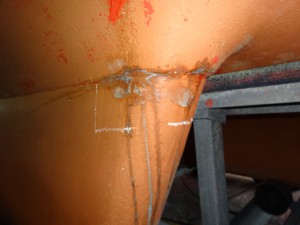 Some rust seepage from bilge keel bolts
The Trusty inspected is fitted with a Yanmar 4JH5  / 4 cyl / 54hp inboard diesel engine
A good point about those Trusty T23 is that they can be trailed and launched anywhere you fancy, be in Cornwall or in the Scottish Islands or further away!
For more information contact European Marine Services Ltd – Marine Surveyors & Consultants Tel :  01603 327 123        www.europeanmarinesurveys.com