February 2, 2018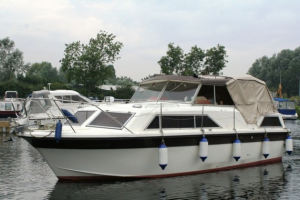 Similiar vessel
To add to our ever expanding list of Fairline Boat surveys EMS recently carried out a Pre Purchase Inspection at Norfolk Boat Sales Brokerage Wroxham on a Fairline Mirage 29 Aft Cabin c 1983. Fitted with a single Volvo Penta MD21 four cylinder inboard diesel engine on conventional shaft drive propulsion
In an 11 year production run from 1975 to 1986, Fairline Boats based in Oundle produced 528 Fairline Mirage 29's. Although not many of these were the Aft Cabin design as we see here. The boats were designed by John Bennett.
The normal accommodation for  the Aft Cockpit Fairline Mirage 29's is for five people, two berths in the forward cabin and three berths in the saloon. This vessel has two berths in the aft cabin.
The hull is medium-vee with a very shallow box keel and in this case there is a mild steel extended skeg that runs aft to support the bottom of the I bracket.
Her centre cockpit styling is very popular on the inland waterways with easy side access from the cockpit, reasonable width decks and very comfortable accommodation.
This Fairline Mirage Aft Cabin is well built and despite her age and being currently moored in fresh water exhibited only a small amount of osmosis
For more information on osmosis visit    https://www.europeanmarinesurveys.com/2014/06/pre-purchase-survey-what-is-osmosis/
The Propulsion
This particular model is fitted with a single Volvo Penta MD21 Diesel engine on conventional shaft drive propulsion and is designed specifically more for inland waterways cruising.  Some aft cabin models were also fitted with two larger Volvo Penta diesel engines with outdrive propulsion, where performance was greatly increased.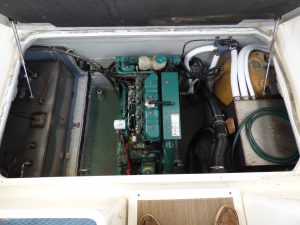 Engine installation – Plenty of working space
The twin petrol engine models commonly fitted in the aft cockpit models were capable of speeds up to 26 to 29 knots.
The Accommodation
Inside, the accommodation is well presented. Entering the vessel from the cockpit, you step into a reasonable sized cockpit area. With a large lift up hatch, this allows very good access to the engine and tanks. You then step down into the saloon area which has a reasonable sized dining area to the port side and an equipped galley and wet room / WC opposite. Further forward and you make your way towards front cabin. The aft cabin consists of another two single berths with a vanity unit and wash basin in between. The aft cabin roof makes for a suitable sun-pad for those brighter days. The whole accommodation area is both light and airy with good visibility.
This was a reasonably well presented vessel which over the past 35 years had been subject to fair wear and tear, the condition being commensurate with age
On this Fairline Mirage 29 Aft Cabin the following items required attention:
Seacock Valves / Skin Fittings                     Require servicing
Bilges & Pumping                                          Confirm bilge pump operation
Fuel System                                                    Improve access to filler & vent connections
Batteries                                                          Install battery isolation switch labels
Fire & Safety                                                   Maintain extinguishers & install auto ext in engine space
LPG System                                                    As recommended
For more information contact European Marine Services Ltd.  Marine Surveyors & Consultants 
EMS also undertake Boat Safety Inspections & Engine Inspections
www.europeanmarinesurveys.com
Tel: 01603 327 123