June 16, 2014
Marine Engine Oil Analysis – Recommended at time of Pre Purchase Inspection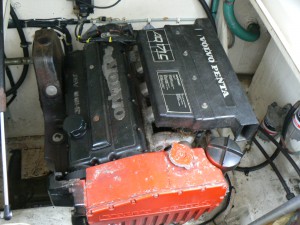 Engine Oil Analysis – To be recommended at time of a Pre Purchase Survey, certainly on all motor boats where the engine is more than about ~ 10-15 years of age (and/or) where the hours are quite high (and/or) where there is no complete service record
To protect yourself from potentially expensive repairs why not get an engine health check at the same time as the  pre purchase survey inspection.
Remember without an engine your boat goes no where
Engineering  &  Oil  Inspections  –  Marine Oil Analysis carried out to ISO 9001: 2008 standards
Engine(s) visual ONLY inspections are carried out on yachts and power boats
As surveyors (not technical engineers) we visually inspect marine engines and generator installations during our inspections, and where possible the engine is run up to access its general running characteristics, vibration levels etc.  No dismantling of the engine or associated equipment is carried out within the scope of a condition survey so no detailed comment upon the internal parts is possible.
As we are unable to comment on the internal condition of the engine(s). It is therefore always strongly recommended that the engines(s) are examined and further tested by a competent marine engineer familiar with the make and type of machinery installed.
On larger power vessels the engine represents a large part of the vessels value and is fundamental to safety. The above visual examinations will be carried out where possible but we will probably recommend a full engine trial to put the engine(s) through their paces.
On most engines, oil analysis may be a worth while investment as it can tell a trained marine engineer a lot about the engines internal condition.
Fee £ 95.00 inc per engine sample analysis  (less £15 if undertaken at same time as vessel inspection)
It represents very good value compared with the cost of rectifying damaged engines.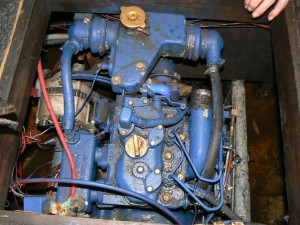 Oil Analysis is one of the most useful and important maintenance support programs available.
Detects problems early, so actions can be taken  before they become major failures.
Helps schedule downtime to fit the workload.
Monitors positives as well as negatives, so you won't have to pay for repair of components that are not worn out.
Allows you to monitor maintenance schedules to verify that routine maintenance has been performed.
Enables you to better manage budgets by predicting repairs, downtime, and equipment life.
Helps you develop a complete service history for each machine. This proves invaluable when evaluating performance and planning replacement purchases.
Documents service history for a higher price at trade-in or sale.
For maximum protection, you need oil sampling for all major oil lubricated systems (engine, transmission, hydraulic system and final drives) and coolant sampling for your cooling systems. By pinpointing trouble early, you can avoid unplanned repairs or catastrophic failures.
Our Marine Engine Oil Analysis Laboratory operates to ISO 9001:2008 standards and meets all manufacturer warranty requirements. The Laboratory can provide analysis for all types of synthetic, mineral & bio-degradable oils ,engine oils, gas engine oils, hydraulic oils, transmission oils, gear oils, transformer oils, coolants, grease, cutting fluids, water based oils, glycols emulsions, diesel fuel, fuel and biodiesel etc. 
For more detailed information on Oil Analysis Samples Visit
For more information contact European Marine Services Ltd.  Marine Surveyors & Consultants 
EMS also undertake Boat Safety Inspections & Engine Inspections
www.europeanmarinesurveys.com
Tel: 01603 327 123