March 2, 2015
Classic Hire Boat (1938) – Project Rebuild                                                                        
This 'stylish' wood motor cruiser is one of the very first broads hire motor boats being built in 1938 by AO King of Wroxham. Being a perfect example of the historic 1930s – British Railway Poster – "The Broads – It's Quicker By Rail " images that we see reproduced today.
This fine vessel has been languishing out of the water at St Olaves Marina for some considerable time awaiting a kind buyer whom will spend the money and take the time to restore to its original beauty.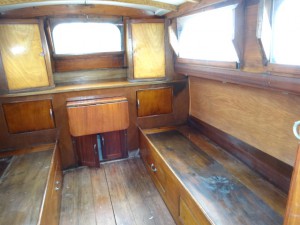 Aft Stateroom typical of the 1930s era
This boat has an elegance all of its own
The buyer was originally looking for additional accommodation in his garden and thought that a boat-annex in the garden would serve the purpose, but in the event was so struck by this classic that he is undertaking a project rebuild
Louis Bodmer has undertaken a comprehensive pre purchase survey and as one can imagine she is in need of overall restoration with such as daylight showing through planks with rotten planks, plus lifting decks, replacement cabin sides and the list goes on. Plus all electrics and fuel system need to be renewed.
Should you need advice, guidance on undertaking such a project or introductions to boatyards with the expertise and professionalism to undertake such a product – Call Us
For more information contact European Marine Services Ltd    (inc European Marine Surveys)          Tel :  01603 327 123        www.europeanmarinesurveys.com
For more information contact European Marine Services Ltd    (inc European Marine Surveys)
Tel :  01603 327 123        www.europeanmarinesurveys.com