November 20, 2016
We have not inspected a Moonraker since about 2010, then as the saying goes along come three Moonraker Pre Purchase Inspections in the same year.
This Moonraker was being sold by Anglia Yacht Brokers of St Olaves and was available for inspection out of the water. For those of you who need an inspection (or service) their 50 tonnes gantry / travel lift is most efficient and reasonably priced
The Moonraker inspected was built in 1975 and fitted with 2x Perkins HT 6.354 @ 175hp ea. diesel engines. These engines being the inclined model which from a surveyors perspective makes engine room inspection very difficult as there is very limited space to actually gain access.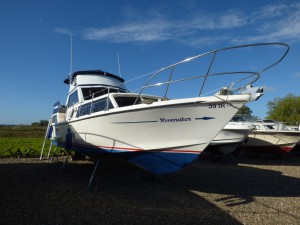 Moonraker Models
As well as the 3 main types of Moonraker available (Sedan, Cruiser and Sports Yacht, with many variations of these also available) from 1972, coloured hulls were also available, the first being yellow. The 'D' series was introduced in 1973, which extended the forward cabin windows so giving greater head/standing room
The Moonraker 350 was a forerunner with the hull design being considered a medium V being very sea-kindly and relatively dry and a picture of the underwater sections is shown below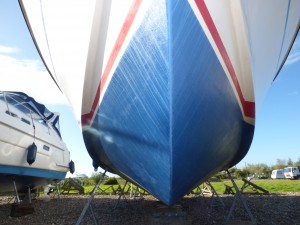 The boat we inspected was considered acceptable in structure but like all well reasonably maintained 40 year old craft had a few problems
There was evidence in underwater areas from the sample / random areas inspected of osmotic blistering ranging up to 25mm dia. Viewed over most of the entire hull being expected – However no boat has sunk consequent of general osmotic blistering and osmotic blistering today is no longer the show stopper is used to be
We also undertook engine oil analysis (samples) of both engines the result showing that one engine had a higher degree of wear, which when re-sampled having changed the oil and run for a while returned to acceptable readings. A fairly high number of oil analysis samples that we take give 'false' readings consequent of a lack of oil changes over several years allowing the build up of unwelcome deposits
For Information on Oil Sample Analysis please visit our website link:     
For those of you whom are interested, and to give some idea as to the background of Moonraker Marine / JCL / Colin Chapman & Lotus Cars we have reproduced the history from www.moonrakerboats.com and acknowledge them accordingly ………..
Please visit our earlier Blog  # 01011-16
For more information contact European Marine Services Ltd.  Marine Surveyors & Consultants
EMS also undertake Boat Safety Inspections
Tel : 01603 327 123        www.europeanmarinesurveys.com