October 10, 2017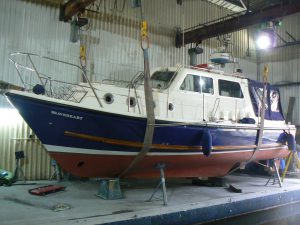 European Marine Services recently undertook a Pre Purchase Survey at Norfolk Yacht Agency's  / Freshwater site on a very nice Seaward 29 – Nelson based 4 berth cruiser with twin diesel engines and every conceivable navigation aid, the vessel having CE Category B rating – Offshore
'B' OFFSHORE: Designed for offshore voyages where conditions up to, and including, wind force 8 and significant wave heights up to, and including, 4 m may be experienced.
The first thing to say that this small craft is very much an offshore / deep water vessel with the capability to almost go anywhere at any time.
The downside in our opinion of this particular vessel is that a great deal of structure, furniture and equipment has been 'squeezed' into a very small space ie a hull length of 29ft.  Consequently your living and social area is very very limited and access to equipment behind furniture, linings is almost impossible plus engine access is difficult without removing furniture etc. However a comfortable twin V berth is positioned forward with a shower / toilet combination alongside.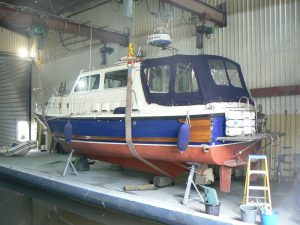 All Seaward 29's are fitted with a number of outstanding safety features:-
•    Twin diesel engines
•    Each engine fully independent with it's own stainless steel fuel tank, fuel filter and start battery
•    Conventional shaft drive with twin rudders
•    Emergency fuel link valve to divert both fuel tanks to supply either engine in case one engine should break down.
•    Twin batteries with facility to start either engine on either one or both batteries together or both engine off one battery.
•    Emergency steering
•    Automatic bilge pump with bilge alarm warning light
•    Contra rotating propellers with 3/4 length deep keel ensure the best possible course holding and manoeuvrability
•    Boat will rotate within it's own length in either direction with one engine ahead and the other astern.
On this Seaward 29 we found the following needed attention
Access to fuel tanks.      Hydraulic steering system servicing.   Very limited access to bilge spaces
For more information contact European Marine Services Ltd.  Marine Surveyors & Consultants 
EMS also undertake Boat Safety Inspections & Engine Inspections
www.europeanmarinesurveys.com
Tel: 01603 327 123