April 15, 2020
INFORMATION from EUROPEAN MARINE SERVICES Ltd. Regarding – REMOTE TONNAGE MEASUREMENT(s)
During the CORONAVIRUS PANDEMIC
EMS Tonnage Measurers are able to carry out tonnage measurement for the purpose of Part 1 Registration with the Registrar General of Shipping and Seamen. The EMS service is available to all craft of less than 24 metres in length, excluding fishing vessels.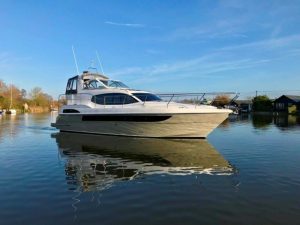 Extract from Annex B – MIN 612 (1)
Issued 24 March 2020 by the Maritime and Coastguard Agency (MCA)
"Calculations and measurements are to be completed as per the relevant regulations and are acceptable when obtained from the following:
1) A sister vessel of a series build which is in possession of an existing Tonnage Certificate, issued on behalf of the Government of the United Kingdom of Great Britain and Northern Ireland
2) Measurements taken from drawings of the vessel
on the condition that at the earlier opportunity the vessel is formally measured. Should the measurement result in a variation of tonnage greater than 2% the tonnage certification should be re-issued.
This general exemption should be attached to any tonnage certificate issued under the exemption granted by it.
This exemption, which may be modified or revoked at any time, shall otherwise remain valid until:
23rd March 2021"
EMS are Approved Tonnage Measurers by certifying authorities
For more information contact European Marine Services Ltd. 
     Marine Surveyors & Consultants | ADR Mediation  |  Expert Witness 
www.europeanmarinesurveys.com
Tel: (44) 01603 327 123