March 17, 2018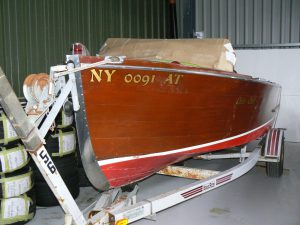 We recently undertook a Condition Inspection on a 1941 Chris-Craft 22 Sportsman, recently brought into the UK from the USA.
As can be imagined this classic launch is now in need of some renovation but the mahogany construction is basically sound and the Grey Marine 90hp four cylinder petrol engine will require a complete overhaul. The Chris-Craft Sportsman is regarded as the American rival to the Italian Classic Riva and this Sportsman 22 was still being used until quite recently.
When inspected we were surprised and delighted to find this 1941 Chris-Craft to be in very very good company being 'surrounded' by literally dozens of new supercars to include Aston Martins, Porsches and Ferraris to name just a few
How about this ………. we'll leave you to decide the model
Chris-Craft  'A Potted History'
Chris Smith built his first wooden boat in 1874 at the age of 13.[1] Years later, he built a duck hunting boat. His friends liked the way he built them, and they asked him to build them one. This was technically the start of the boat company. He soon began to build more boats and joined his brother Hank in 1881 to begin producing boats full-time.
In 1910, the brothers joined with other partners to form the Smith Ryan Boat Company.[1] The firm's name was changed in 1922 to Chris Smith & Sons Boat Company, then to Chris-Craft in 1924. The Detroit-area company became well known for its sleek racing boats in the 1910s and 1920s. Chris-Craft sold high-end powerboats to wealthy patrons such as Henry Ford and William Randolph Hearst.
In the late 1920s, Chris-Craft extended its market into the middle class when it became one of the first mass-producers of civilian pleasure boats. The company began assembly line production at their plant in Algonac, Michigan,[2] dramatically lowering production costs. Formerly, most powerboats had been hand-built. Engines were supplied by both Ford and Chrysler, and by the Hercules Engine Company in later models.[3]
After the war, Chris-Craft introduced a new lineup of civilian pleasure boats in time for the massive American consumer expansion of the 1950s. That decade marked the height of company prestige, and the Chris-Craft brand name became virtually synonymous with pleasure boating. The company offered 159 different models, and it was the sales leader in many categories of small civilian powerboats.
The company sold high-end boats to famous customers such as Dean Martin, Katharine Hepburn, Frank Sinatra, and Elvis Presley. Their boats were often made from the finest mahogany and were considered to be among the best available. They were easy to operate, a must for their "weekend sailor" owners. In some circles, owning a Chris-Craft was considered de rigueur. Even their lower-priced boats were considered to be of high quality, often featuring such luxurious items as a liberal use of mahogany, teak, and brass.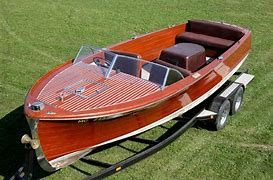 WW2
Chris Smith died in 1939, but his son Jay proved to be an equally able builder of boats and the company continued to flourish. Contributing to the war effort, Chris-Craft built more than 10,000 landing craft. On June 6th, 1944, Chris-Craft LCPLS spearheaded the D-Day landings. To this day, Chris-Craft remains the only recreational boat manufacturer to have its boats tested under fire.
After World War II, Chris-Craft recommenced commercial boat production with renewed vigor. By 1959, Chris-Craft had 10 factories and more than 5,000 employees. Leadership of the company passed to Chris Smith's grandson, Harsen. When interviewed by Time magazine, he attributed Chris-Craft's success to the family rather than any individual within it.
Footnote
We have introduced the owner to two local boat building companies we consider capable of undertaking high quality renovation, so hopefully this Classic Chris-Craft 22 Sportsman will remain local
For more information contact European Marine Services Ltd.  Marine Surveyors & Consultants 
EMS also undertake Boat Safety Inspections & Engine Inspections
www.europeanmarinesurveys.com
Tel: 01603 327 123