December 4, 2017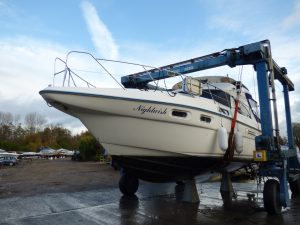 This Sealine 390 Statesman  c 1992 was surveyed for the purpose of pre-purchase and a river trial was also requested. Sealine produce a large range of sports cruisers for the inshore and offshore market. This 390 Statesman has a pair of Volvo Penta TAMD71B 380hp inboard diesel engines on conventional drives. She has both an internal and external helm position. However, the somewhat more important gauges are only visible from the lower helm position.
The River Trials
Out on the water she handled very well, both engines pulling strong all the way up to around 2700 rpm, giving her a top speed of approximately 30 mph. Noise from the engines is kept to a minimum with a good layer of sound proofing within the engine space and minimal exhaust note from the transom. At low speed she also handled well, turning on a sixpence in those tight spots. This vessel also benefits from having both bow and stern thrusters.
EMS record / action the following  speed / engine trials when requested
Max rpm / speed trials run in both directions / against wind & tide
Satisfactory operation of forward and reverse gears
Emergency stop – passing from full ahead through neutral to full reverse
Steering response / handling – Figure of eight steering performance
General steering, control and gear operation
All engine gauge readings recorded at determined RPM and photographed
Max Speed obtained             30   MPH            With tide
                                                 29   MPH           Against tide
Exhaust Smoke:
There was limited white smoke at start up from cold and on the first wide open throttle pass made, both dissipated quickly.
For more information on diesel engine exhaust smoke generation – Refer to:
https://www.europeanmarinesurveys.com/marine-surveys/engine-oil-sample-analysis/
Comments:
The vessel performed reasonably well through all operations.
The throttle levers require synchronisation
Large variation in recorded engine hours
The max rpm achieved being 2600 on the port and 2700 starboard
The Accommodation
Inside, the accommodation is reasonably well presented. The upholstery is starting to show signs of wear, although, with some minor updating, she would be a well presented example.
There is an open plan saloon with large seating area on the starboard side. This goes up to the lower helm seating position. The large galley is found forward of the saloon on the port side. There are two main cabins, firstly the master which is towards the rear of the vessel and the second up in the bow. Both benefit from having their own ensuite WC and Shower rooms. The Flybridge is a very large area which can also be used as an area for entertaining as well as somewhere to take in the scenery whilst cruising at a comfortable 22+mph
The decks are reasonably wide for a vessel of this size which does not appear to affect the accommodation size inside. Stanchions and hand rails give you that sense of security as you pass round the boat whilst she is under way.
All told, this was a very well presented vessel which had been well maintained.
On this Sealine 390 Statesman the following items required attention:
Fuel System:                                                         Improved access
Bilge Pumps:                                                        Confirm manual function
Bow & Stern Thruster:                                       Label battery master switches
Steering and Rudders:                                       Replace damaged hydraulic hose
Seacock Valves:                                                   Service loose seacock valve in aft cabin
LPG System:                                                        Carry out LPG Soundness Test
Fire Safety:                                                          Service all Fire Extinguishers
For more information contact European Marine Services Ltd.  Marine Surveyors & Consultants 
EMS also undertake Boat Safety Inspections & Engine Inspections
www.europeanmarinesurveys.com
Tel: 01603 327 123