October 30, 2015
Boat of the Year – Oslo 2004              " A Great Charter Yacht "
We recently conducted a pre purchase survey on a Beneteau 323 which was stored ashore at the Titchmarsh Marina, Walton on the Naze, Essex – A beautiful location with stunning views across to Harwich.  The sun was also shining making this inspection more pleasurable
The first thing to be said about this Beneteau was the price, being sold at an agreed bargain price of around £15 – £20k less than the selling price she would command on the South Coast.
The Beneteau Oceanis 323 inspected had a fixed fin ballast keel and single rudder as apposed to a lifting keel and twin rudders
The stainless standing rigging was all in good shape although the running rigging could do with being 'washed' (in a net bag in the washing machine) as it has been exposed to all weathers.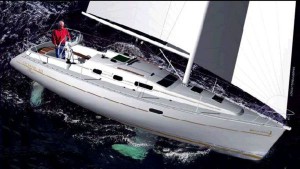 An excellent view of the fin ballast keel and rudder
As the alloy mast was in position we could only report on the 'rigging' etc as seen at deck level. Not being sail makers we do not comment on the sails – and its just not practical to open up large mainsails / foresails for examination other than in a sail loft.
One novel feature that we did not appreciate at the time was that the wheel / helm console in the spacious aft cockpit can be rotated 90 deg fore-aft to allow for easy side passage.
This yacht passed survey with flying colours but one comment is why do manufacturers / boat builders mix mild steel washers with stainless bolts as is the case with the keel bolts !
For more information contact European Marine Services Ltd – Marine Surveyors & Consultants Tel :  01603 327 123        www.europeanmarinesurveys.com