October 8, 2018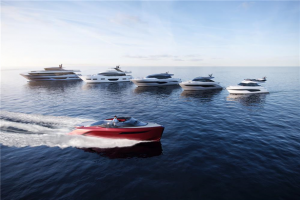 The six new models Princess Yachts plans to launch in the second half of 2018
Plymouth's luxury boat maker Princess Yachts has sailed back into the list of the UK's biggest mid-market companies after making an £11million profit.
The Stonehouse-headquartered company fell out of the list in 2015 after suffering a slump in sales, but during the past two years it has reversed its fortunes and is steaming ahead again.
The company has docked at an impressive number 87 in the 14th annual Sunday Times Grant Thornton Top Track 250 league table, which ranks Britain's private mid-market growth companies with the biggest sales.
The boat-builder has leapfrogged St Austell Brewery, which has four Plymouth pubs, as well as a Barbican coffee outlet, which is at number 173, up two places, with profits of £13million and sales of £169million.
But because the list is focused on sales it means Princess Yachts, with £274million in sales in 2017, a jump of 26.6 per cent, is higher in the chart.
The company, which now employs close to 3,000 people at sites around Plymouth, now has an order book of £750million.
It is a huge turnaround for the firm which a year earlier had made a £7million loss.
After a stellar year the firm is now enjoying its highest sales figures in its 53-year history.
It continues a trend of strong year-on-year growth for the L Catterton-owned luxury yacht builder.
Princess' recent performance at the industry's biggest global sales events – the Cannes, Fort Lauderdale, Southampton and Düsseldorf boat shows – saw the company power ahead across its entire fleet.
It is now predicting profits could reach £30million for 2018 and it launching even more designs.
A spokesman said: "We have launched seven new yachts already in 2018, and announced three more new yachts that will arrive over the next three months.
"During 2019 and 2020, we will launch a total of (new design) 15 yachts."
For more information contact European Marine Services Ltd.  Marine Surveyors & Consultants 
EMS also undertake Boat Safety Inspections & Engine Inspections
www.europeanmarinesurveys.com
Tel: 01603 327 123