July 25, 2018
Fortunately this has not yet been tried on the Norfolk Broads !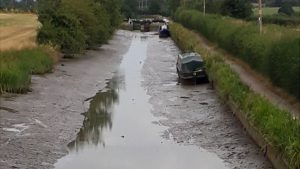 How the canal looked after the plug was pulled
A boater accidentally drained a stretch of the Kennet and Avon Canal after leaving all the lock gates open.
A section of the waterway was left with hardly any water on Tuesday near the Barge Inn in Seend, Wiltshire.
A spokesperson for the Canal and River Trust confirmed what happened was not malicious but that the boater was "rushing and left the paddles up".
The lock paddles "work like a plug on a bath in allowing water in and out of the locks," he explained.
He added that the trust had since restored the water levels.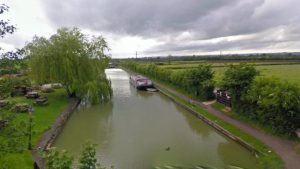 How the canal looked before plug was pulled
The Kennet and Avon Canal is an 87-mile (140km) waterway linking the River Thames at Reading to the River Avon in Bath.
It was originally opened in 1810, but gradually fell into decline after the Great Western Railway was built.
The waterway was completely restored by volunteers and officially reopened by the Queen on 8 August 1990.
Acknowledgement to Marine Industry News – [email protected].
For more information contact European Marine Services Ltd.  Marine Surveyors & Consultants 
EMS also undertake Boat Safety Inspections & Engine Inspections
www.europeanmarinesurveys.com
Tel: 01603 327 123