November 21, 2017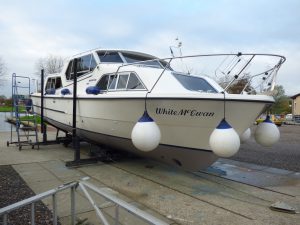 Awaiting pre-purchase survey
SHEERLINE 950 Centre Cockpit  Built By: Wroxham Marine, Norwich in  c 2000 and despite being some 17 years old is still very well presented being fitted with a single Nanni diesel engine on conventional drive propulsion
We were made very welcome and carried out the Pre Purchase Survey at the Ouse Valley River Club (OVRC) St Neots, being a very nice and well positioned marina and boat club with a private slipway
From the OVRC website:
Welcome to Ouse Valley River Club – We are a private members motor boat club founded in 1950's based on the River Great Ouse in St Neots, Cambridgeshire. Founded over 60 years ago, the OVRC has gone from strength to strength and today our members enjoy fantastic boating facilities that rival the best proprietary marinas. This includes a large Clubhouse with a bar, showers and toilets and an excellent slipway, all set in a secure and beautifully maintained four and a half acre marina.
The Sheerline 950 centre cockpit styling is very popular on the inland waterways with easy stern access from the aft well, reasonable decks and very comfortable accommodation. Many of these boats have been built for the hire boat industry and have proven to be a very popular over the past 25 years. This example has remained in private hands since it was built and benefits from having both a bow & stern thruster as well as a second steering position on the stern.
This aft steering position is unusual and we believe the only Sheerline with such an option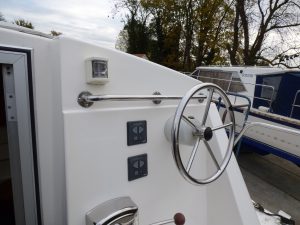 Aft Steering Position
This Sheerline is well built and despite her age and being currently moored in fresh water, exhibited no signs of osmosis – which to say the least is unusual
Sheerline 950 Accommodation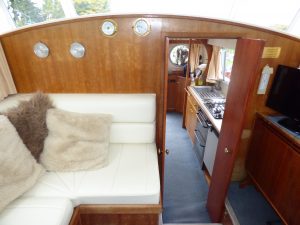 Inside, the accommodation is well presented. Entering the vessel from the stern you step into a well laid out galley / living area which makes into a double berth. You then step up into the wheelhouse / saloon area which has a full sliding roof allowing you access onto the decks. Moving further forward you then have a reasonable sized WC and forward cabin and a further 2 berth accommodation to the bow. The whole accommodation area is both light and airy with good visibility of the world going by on the outside.
The decks are reasonably wide for a vessel of this size which does not appear to affect the accommodation size inside.
This was a very well presented vessel which over the past 17 years had been well maintained.
On this Sheerline 950 Centre Cockpit the following items required attention:
Propulsion System:                 Worn Cutlass Bearing.
Fire & Safety:                            Service Fire Extinguishers.
LPG System:                             Carry out a LPG Soundness Test.
For more information contact European Marine Services Ltd.  Marine Surveyors & Consultants 
EMS also undertake Boat Safety Inspections & Engine Inspections
www.europeanmarinesurveys.com
Tel: 01603 327 123