November 21, 2018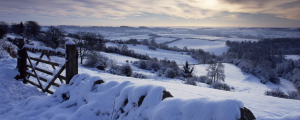 As meteorologists warn an 'El Nino' event is likely to cause widespread snow events and ice storms from early December onwards, European Marine Services is calling for boat owners to prepare for winter weather.
'El Nino' occurs when the sea surface temperature in the Pacific Ocean is warmer than average, prompting floods in tropical areas and colder winters in the UK.
Heavy rain, flooding, winds, ice and snow can all cause problems for vessels: they could be swept away, blown off course, take on water, sink or suffer a hull breach.  And with nearly one in three of call-outs is due to a lack of general maintenance, we fear 'neglected' boats will be put at risk.
Some simple precautions, however, can reduce the likelihood of winter damage.  When a weather event does strike, it's time to get into a routine of visiting the boat regularly and undertake the following;
Check the batteries are fully charged, with a bilge pump in continuous operation even a fully charged battery will only last a few days.
Check bilge pumps are fully operational and left on 'automatic' setting.
If there's no bilge pump or only a manual one is fitted, install an automatic bilge pump – and don't be complacent; just because it automatically operates, it still needs checking (it relies on battery power so unless the boat's shore powered, there isn't an unlimited supply).
Check drain holes and clear debris – keeping these clear will stop water running into the engine room.
Check ropes and anchoring points, if the mooring's at risk of flooding, run a rope to locations that can still be accessed even in a flood situation.
In windy conditions, check ropes for chafing and ensure they are well positioned and adjusted to the conditions.
Before moving a boat in ice consider the importance of your journey – it's easy to believe you're impregnable when surrounded by steel but even a couple of inches of ice can pierce a hull.
Check river conditions, and again consider whether the journey is really necessary; river conditions can change quickly and easily catch you unaware. Get updates from the Environment Agency.
Check the wind direction before manoeuvring. When coupled with difficult river conditions, the windage of a boat can be easily underestimated and your vessel will become uncontrollable.
"If your vessel's caught in a situation, don't attempt to recover it without assistance. Severe weather conditions increase the risk to boat owners and simple tasks can easily result in accidents and injury."
Acknowledgement to Marine Industry News – [email protected].
For more information contact European Marine Services Ltd.  Marine Surveyors & Consultants 
EMS also undertake Boat Safety Inspections & Engine Inspections
Tel: 01603 327 123  
 www.europeanmarinesurveys.com