December 1, 2015
Japan – A long way to go for a Marine (Insurance) Survey, but a great adventure & experience
Several years ago back in 2007 we had the pleasure and honour to be instructed by a large Japanese Corporation to undertake a Condition Survey / Valuation of this most famous 110′ gaff rigged ketch built in 1927 by Camper & Nicholsons UK.  (Launched as 'Gwendolen')  We therefore thought that this condition / valuation survey would make an interesting blog
Dimensions:   Auxilliary Gaff Rigged Ketch 'Cynara'        LOA  109′ 8″ x   Beam 18′ 7″ x   Draft 11′ 3″
Rumour is that 'Cynara' belonged at one time to Winston Churchill. The Cynara itself doesn't have a log. It also doesn't have a certificate to prove Churchill's ownership. However the Japanese owner's believe this to be true
During her early years she was owned by Lord Northampton, her longest owner to date, and was later used for charter in the Mediterranean where she entertained the likes of Prince William of Gloucester. Another of her accolades involves the film industry where Cynara starred in the film, Arriverderci Baby ! with Tony Curtis and Zsa Zsa Gabor.
Cynara (73.4 tons) was sailed to Japan in 1973 to become a promotional tool for 'Seibu', a Japanese department store. Cooking classes were held on 'Seibu's luxury yacht' as part of the companies' 'edutainment concept' and she regularly went out on sunset cruises. During this time her devoted skipper took serious pride over the maintenance of the vessel, especially when it came to his varnish!
View aft standing on bow sprit                  Deck view                   View from beneath with a 11′ 3″ draft
Japan (Tokyo) is a long way to go to undertake a condition survey & market valuation, plus travelling south to Kanagawa (marina) which took a day by car, but had the pleasure of the bullet train ride back to Tokyo – a very rewarding experience
If anyone wants to know what it is like staying in a local Japanese hotel with communal bathing and sleeping on a mat on the floor plus eating 'real' Japanese food,  don't ask.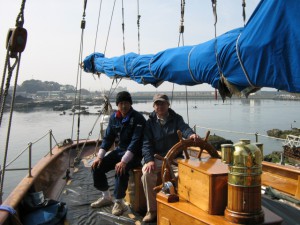 My two Japanese helpers

Plan of Cynara
For more information contact European Marine Services Ltd – Marine Surveyors & Consultants Tel :  01603 327 123        www.europeanmarinesurveys.com