September 14, 2017
European Marine Services Ltd  inc. European Marine Surveys carry out insurance Damage Assessments and Loss Adjusting etc for most of the major Marine Insurance Companies – plus Marine Surveys for Insurance Purposes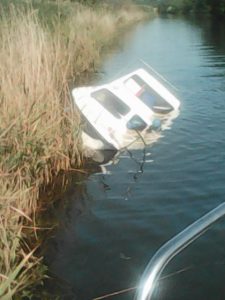 Norman 18 – Accidental Sinking
REMEMBER to check and service those fittings below the floors which are not obvious being ………….
                                                                   'Out of Sight – Out of Mind'
This was a very unfortunate accident and was consequent of a 'loose' skin fitting' in the bottom of the boat – feeding cooling water to the engine
In summary the raw water seacock involved fed the engine cooling and was therefore subject to some vibration. It would appear that over time the vibration resulted in the securing nuts etc working loose thus allowing limited ingress of water
Regretfully there was no 12v Auto bilge pump   –   Which is an Insurance Requirement
The Norman 18 was left overnight moored in some reeds due to engine failure and upon the return of the owner the next day he found the above –  see photo
This boat was the owner's treasured possession and though the vessel was old, the owner nevertheless got a lot of pleasure just river cruising and watching the world pass by………..
History – Norman Cruisers of Shaw, Lancashire were a prolific designer of inland cruisers, building a total of 7000 craft. The company founded in the late 1950s went into GRP production in the mid 1960s, starting with the Norman 17.
The business ceased trading in December 1979 (The Winter of Discontent) and started again in 1980. New models were introduced 24, 27 and 22 wide beam but the moulding shop was destroyed in a fire in 1982. This destroyed most of the moulds and the business never recovered. Some moulds were re-built and when the business finally ceased, these were sold and marketed under other names. Also some designs were copied and made into hybrids.
In the 1970s around 65% of boats were exported. Principle markets (in order of Volume) were Holland, Germany, Norway, France, Sweden. Boats in Holland were imported by Internaut of Rotterdam and were sold under the name of "Inter". Hence the 20 was the Inter620.
Norman Cruisers were in the top 3  largest pleasureboat builders in the UK. Westerley Yachts being the biggest.
For more information contact European Marine Services Ltd.  Marine Surveyors & Consultants                    
EMS also undertake BSS Inspections & Engine Oil Analysis Reports
Tel: 01603 327 123      www.europeanmarinesurveys.com