June 15, 2015
Fairline Mirage 29 – Aft cabin                                              
Fitted with a single Volvo Penta diesel engine and shaft propulsion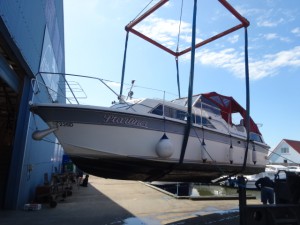 A Fairline Mirage 29 'floating' in the air.
This 1985 Fairline Mirage 29 was viewed at Waterside Marina, located in the famous Herbert Wood boatyard at Potter Heigham.
The medium V shape hull allows to a steady and economical cruising speed whilst if fitted with powerful engine will do some decent boat top speed.
The internal arrangement comprise a comfy main cabin with good sitting area and a forward cabin with V berth. The aft cabin with two single beds is a great design for a weekend out with friends allowing everyone to enjoy a bit of privacy whilst the roof accommodate a sun bed area, great for chilling out and enjoying the view.
Interior view with V berth in forward cabin           Sun deck with access door to aft cabin
The vessel was well maintained and mostly displayed general fair wear and tear commensurate with age, however one item of safety was picked upon.
It consisted of the LPG gas pipe's route passing too close to the hot air heater's exhaust pipe. For the obvious reason the gas pipe should be re-routed to a safe distance from the exhaust heat. This item should be easy enough to be put right.
For more information contact European Marine Services Ltd – Marine Surveyors & Consultants Tel :  01603 327 123        www.europeanmarinesurveys.com