March 8, 2018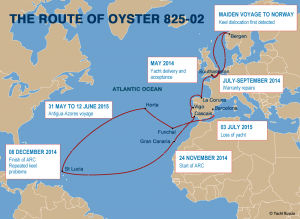 Taken from the following website         http://oysterstory.info/
A first-hand account of what happened to the Oyster 825-02 sailing yacht, POLINA STAR III, and how a failure to handle the dispute properly, in our opinion, caused the liquidation of the shipyard
Oyster Yachts was one of the most famous sailboat-building shipyards.
In a span of over 40 years of its history, Oyster built over a thousand yachts. They were always noted for their exceptional levels of luxury, reliability, and build quality. In all, the brand used to be the Rolls-Royce of the sailing yacht world.
How was it even possible, then, that a new Oyster boat, less than a year after delivery, literally fell apart in the open sea for no apparent reason, putting not only the brand's prestige but the lives of its customers in grave danger ?
Read the full story below – link ………
The following website oysterstory.info was launched on 16 February 2018, following the liquidation announcement of Oyster Yachts. It was created to shed light on the practices of the Oyster Yachts owners and management.
VISIT       http://oysterstory.info/
 For more information contact European Marine Services Ltd.  Marine Surveyors & Consultants 
EMS also undertake Boat Safety Inspections & Engine Inspections
www.europeanmarinesurveys.com
Tel: 01603 327 123