October 6, 2018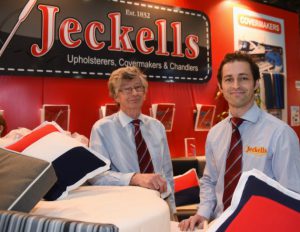 Peter Jeckells, left, chairman, and his son, Andrew, managing director of Jeckells and Son the upholsterers, on their stand at the London Boat Show 2018. The company exhibited for the first time at TheYachtMarket.com Southampton Boat Show
A Norfolk supplier of upholstery to the marine industry has celebrated a successful first appearance at the country's biggest boat show.
Jeckells and Son signed up to attend TheYachtMarket.com Southampton Boat Show for the first time following the cancellation of the 2019 London Boat Show.
The cover-maker and upholsterer, based in Wroxham, said it had an "excellent response" to its appearance with many enquiries for its products.
Directors Peter and Andrew Jeckells, both of whom attended the show earlier this month, said that they received significant interest in the company's latest ranges of upholstery fabrics.
They said: "We are delighted to declare our attendance there a wholehearted success and we look forward to attending again in 2019."
Following its success at Southampton the firm said it will now visit the marinas of the South Coast, in extension to its existing areas.
For more information contact European Marine Services Ltd.  Marine Surveyors & Consultants 
EMS also undertake Boat Safety Inspections & Engine Inspections
www.europeanmarinesurveys.com
Tel: 01603 327 123