February 15, 2016
We recently undertook a PPI (Pre Purchase Inspection) of a Colin Chapman / JCL Marine 1972 Moonraker 360, which was in some ways like going back in time – A Blast from the Past
For those of you whom are interested, and to give some idea as to the background of Moonraker Marine / JCL / Colin Chapman & Lotus Cars we have reproduced the below history from www.moonrakerboats.com and acknowledge them accordingly ………..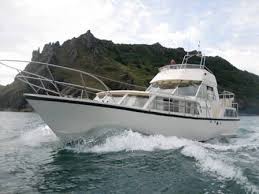 Moonraker 36
History 1967 – 1980  In 1967 a German Rhine Army captain died before he could take delivery of 'Moonraker' a boat he had commissioned from Vic Bell at Brundall, Norfolk to build and fit out. The 30′ boat named 'Moonraker' by the buyer was an Ocean 30 (built by Aquafibre) and fitted out by Bell's family firm – still in existence today and run by Vic's son John Bell.  The German executors asked Vic Bell to sell the boat on their behalf – the name 'Moonraker' was kept and the boat sold to a David Buxton.
David Buxton – a car dealer and semi-amateur racer – had been brought to Norfolk, visiting John Berry, as part of his connection with Colin Chapman & Lotus cars. Buxton changed the interior of the boat – adding a stereo and cocktail cabinet, but quickly tiring of cruising on the Norfolk Broads decided to sell Moonraker.
It was the ensuing interest in the boat and the profit he made that spurred him to set up with Vic Bell at Brundall to build six more Moonraker 30's – without flybridge at this stage.
Having found a thriving market, it was decided to build a bigger model. Naval architect Robert Tucker (for a while he was also a Moonraker company director) designed the 36 foot Moonraker.
Despite the popularity and good sales of the Moonraker 36, the company had financial difficulties and John Berry persuaded Colin Chapman to buy the company, which he did in 1971. Lotus managers and engineers transformed the company and marketing infra-structure as well as making revolutionary changes in design and manufacturing. There was a great cross over of staff and technology between marine & automotive design and production.
Under Colin Chapman the company acquired JCL Marine and expanded the range of boats built. With   Don Shead the Marauder was designed and built. Then came the so called 'Mediterranean Models' of  Mystere, Mirage, Mamba, Mistral and the uncompleted Mangusta project.
After the company went into voluntary liquidation in October 1980, the half finished Moonraker hulls were bought by Waveney Lakes. The Moonraker moulds were bought by DC Marine who built the marque under the name Moonraker 'Super 36'. Vic Bell bought the moulds back in 1990 and built one more Moonraker before leaving the moulds to stand on the Brundall site.
Although the Mystere / Mirage moulds were bought by Tamaris Marine – the company folded without producing any further boats.
The Mamba mould tools were sold on and at least one model produced under the 'Falcon' label.  The Marauder plans along with the 'Streaker' (adapted Mamba open sports model) were sold to a company trading as Cleopatra Ltd.
We believe that the Moonraker 36 mould tools are still at Bell Boats Marina, Brundall – are they waiting for another chapter to open ?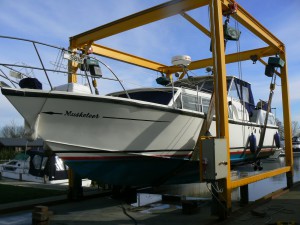 Moonraker 36 ready for survey
Moonraker Models
As well as the 3 main types of Moonraker available (Sedan, Cruiser and Sports Yacht, with many variations of these also available) from 1972, coloured hulls were also available, the first being yellow. The 'D' series was introduced in 1973, which extended the forward cabin windows so giving greater head/standing room.
In August 1975, JCL / Moonraker Marine International Ltd became the first boatyard in the country to hold the Lloyd's Register of Shipping Quality Control certificate. In 1976, the Moonraker 36 was the first boat to comply with and receive Lloyd's Register Building Certificate (L.R.B.C.).
The exact numbers of Moonrakers built and sold by Moonraker/JCL between July 1971 and voluntary liquidation in 1980 are not available. Many records were destroyed when the Brundall Gardens office was hit by lightening on 15th August 1993, however surviving records show that by April 1979, 384 Moonrakers had been built and sold.
Post liquidation some half finished moulds were completed by Waveney Lakes. DC Marine then bought the moulds and competed approximately six Moonraker 'Super' 36. This had a much updated interior, 2 x 175hp Perkins Diesel engines and some exterior styling changes.
Vic Bell then again acquired the mould and in 1991 commissioned Excel Marine to build a Moonraker for his own use. Although planning to use this for a demonstrator for further builds, these did not happen and the Moonraker moulds remain at the Bells yard site.
For more information contact European Marine Services Ltd.  Marine Surveyors & Consultants
Tel : 01603 327 123        www.europeanmarinesurveys.com