May 23, 2016
Inboard Petrol – Mercruiser 5.0L  V8
Outdrive propulsion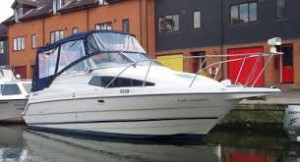 Marine Engines are Expensive to Repair  (V)  Historic Motor Racing
 John, thanks for the prompt reply.  This is very acceptable to me.  I have just placed an initial offer for the boat, I think we will come to an amicable agreement in the next few days so hopefully I will be requiring your services.
Engine – having just retired from historic motor racing (including F1) I totally agree with your comments regarding how expensive engines can be to repair.  As a minimum I would need an oil analysis but do you know of a suitably qualified engineer?  The engine is a 1999 Mercruiser 5.0Ltr V8 petrol (non-EFi).
It might be of interest to you that your name was mentioned to me by a couple of experienced boating people as the 'turn to person' to carry out pre-purchase inspections on Broads Boats.  Definitely nice to have a good reputation (one day perhaps I will get one…).
Best regards                    RY
For more information contact European Marine Services Ltd.  Marine Surveyors & Consultants 
EMS also undertake Boat Safety Inspections & Engine Inspections
www.europeanmarinesurveys.com
Tel: 01603 327 123