June 16, 2015
Jeanneau Merry Fisher 755  – A Great Sport & Day Boat                               
A pre purchase inspection undertaken at the newly opened Norfolk Boat Sales, Brundall facility
This recently acquired and extensively refurbished 50 boat marina enables NBS to display boats afloat and to offer servicing facilities, plus a large travel lift for lifting and launching as required
This trailable boat measures 7.4m being powered by a single 150hp Yamaha Four Stroke Outboard
It was built by Jeanneau in 2013 and is therefore still 'like new', and it will take some time for it to start show fair wear and tear as it has been solidly built by Jeanneau.
The interior was surprisingly big with some clever storage ideas. Front cabin consist of a typical V berth and the main cabin is generous in proportion offering great visibility whilst the helm station has all the 'spaceship alike' control at hands.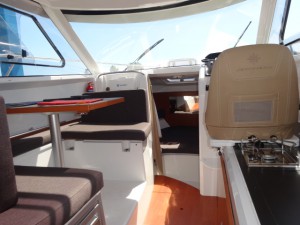 View of main cabin
With the help of Norfolk Boat Sales staff, we took the Jeanneau out for a speed / engine trial. Well, we were both looking forward to it and the boat performed well and reacted to all the manoeuvres just as expected.
All in all this is a very good example of Jeanneau's quality of work and great fun to drive
For more information contact European Marine Services Ltd – Marine Surveyors & Consultants Tel :  01603 327 123        www.europeanmarinesurveys.com