March 26, 2014
Welcome to European Marine Surveys, based in the heart of East Anglia & the Norfolk Broads. As marine surveyors we undertake inspections of all types (including the popular pre-purchase survey) of marine craft from classic broads wooden yachts, ex hire boats, inland waterway craft, house boats, steel narrow boats  Plus  offshore yachts, large ocean going motor boats, sports cruisers & many more types since the 1980s.
We below provide information on surveys of interest
1960  BROOM 42 ADMIRAL CLASS   'Katinka'
In February we were instructed by Broadland Yacht Brokers on behalf of their client to undertake a Pre Purchase Inspection on the 1960 classic Broom Admiral Class 42′ 'Katinka'  Other than a few minor problems this 54 year old broads motor cruiser passed with flying colours and is a credit to her owners and Broom Boat Builders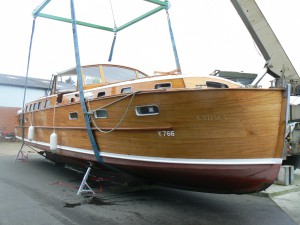 We have reproduced the below from Anglia Afloat Magazine for your information
Irish-born Buckinghamshire resident businessman Emmet Hart is one lucky son of a gun, he owns the iconic Katinka, arguably one of the most beautiful motor cruisers ever built. Katinka was built in 1960 to a 1940s design by CJ Broom & Sons in Brundall, Norfolk, the very last wooden Broom ever built by the UK's longest established motorboat manufacturer founded in 1898.
She's a customised version of the Admiral class, which at the time was the largest boat built by Brooms at 42ft. She is unique, having been privately owned by the same family for 52 years.
Built for Professor Jack Mayne of Cambridge in 1960 she remained in the factory's wet boathouse and was maintained by Brooms for fifty-two years, with any work required during her lifetime being carried out by the Broom factory. Since her launch in 1961 she has only cruised a total of 791 hours, 12 of those under her new owner.
Katinka's hull is built of Iroko on oak frames, a bespoke build strengthened and lengthened slightly for coastal voyages to enable her owners to explore the numerous rivers and inland waterways around the UK. Completely varnished to the waterline and antifouled below and with varnished Mahogany coachroof and cabin sides she is a stunningly elegant craft.
Stunning finish – Down below she is finished in gleaming varnished Mahogany, with white enamelled locker fronts and deck heads and with new light-coloured upholstery throughout is light and airy. She still retains most of her original fixtures and fittings but has a newly fitted galley with fridge freezer, combination cooker and hob, Webasto warm air heating and electric heads.
There's an open cockpit aft with surrounding bench seating. Double swing doors lead into the full width galley; to port is a new gas cooker and hob, full size front opening fridge and a generous worktop, while to starboard is more worktop with a s/s sink and drainer and cupboards under.
Forward of the galley is the main saloon with settees that convert to single berths, a folding central dining table with cutlery drawer that will seat six in comfort. There's storage drawers under the settees and a low-line cupboard each side aft. At the forward end is a large double cupboard to port and a large heads with electric WC and washbasin, to starboard. Offset to port is a set of steps leading up into the spacious central cockpit. The side windows all hinge at the bottom and tilt inboard to rest on wedge-shaped wooden brackets when open. Lower windows in the hull are permanently sealed.
The control console is mounted to port, with the access companionway to the forward accommodation to starboard. The original stainless steel instrument panel looks almost as good as new and the tacho reads 791 hours on the 3.4 litre BMC Commodore engine under the cockpit sole. This pushes her along at a comfortable cruising speed of eight knots up to a maximum of 10 knots.
Also under the floor are the fuel and water tanks and batteries, putting the bulk of the weight in the centre of the craft and giving her an even trim and reducing the motion at sea.
The cockpit hard top folds back over the aft coachroof to give open air motoring on fine days and reducing the air draught for ducking through Broads' bridges.
Owner's accommodation – The forward companionway leads down to the owner's double berth thwartships cabin with double berth to port with locker stowage and dressing table and wardrobe to starboard. Also under the bunk is a Webasto heating unit feeding warm air throughout the whole craft. Further forward again is a large family heads to port and a shower to starboard with a twin-berth cabin in the forepeak. Stowage is in large drawers under the berths and a large hanging locker by the companionway.
Emmet Hart bought Katinka in early 2013 as a substitute for his 37ft motor cruiser Snowgoose while she was being restored at Oulton Broad-based International Boatbuilding Training College. Interestingly, the two Norfolk built boats had been completed within a year of each other yet they clearly hail from different eras. Katinka is unquestionably a 1940s motor cruiser with a few minor concessions to the 1960s whereas Snowgoose is more in keeping with the era of her construction.
E C Landamore & Co built Snowgoose for Edward Suckling in 1962. Originally named Eclan in honour of her builders she was based on the design of the company's 5-berth Vestella class motor cruisers.
However, the completion of Snowgoose's restoration in October 2013 presented Emmet with a real dilemma, which boat should he keep? While he is in the fortunate position to be able to fund the running costs of both boats he feels that they should be regularly used rather than gathering dust in a boat shed.
Having enjoyed a memorable summer of cruising in Katinka, which included several months on the Thames where her immaculate appearance caused quite a stir during the Henley Royal Regatta, he reluctantly decided to put her up for sale to see if a new custodian can be found for this remarkable slice of Broadland history. If not, Emmet will simply continue to enjoy the contrasting qualities of two of the region's finest classic motor cruisers.
Katinka Specification:
LOA: 43ft    LWL: 42ft   Beam: 10ft 6in   Draught: 2ft 6in   Air Draught: 6ft 4in                  Cruising Speed: 8 knots    Max Speed: 10 knots
For more information contact European Marine Services Ltd                                         
Tel European Marine Surveys on 01603 327 123